Janine Utegg | Erie, PA Artist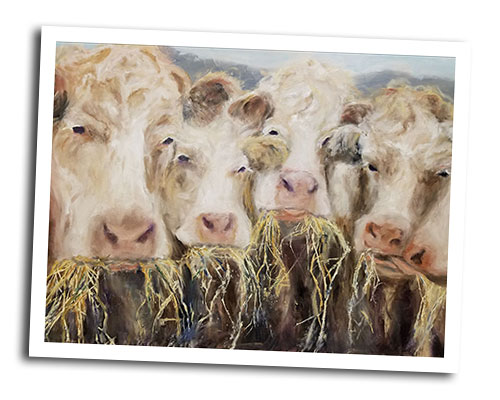 Foremost, Janine Utegg is an artist, varying in the genre of Impressionist Realisim, Naturalistic Landscapes, to Representational Atmospheric, often spiritually based landscapes, waterscapes, portraits and history. She paints in oils and acrylics on canvas, shale/slate rock, wood, or watercolors on paper. Janine strives for a more loose and painterly touch with all of her paintings.
Being and avid dog lover, with four of her own, all animals hold a dear place in Janine's heart. She enjoys watching her backyard bird feeders, visiting local farms and is an advocate for all the local shelters, as well as other charities. Most artists she paints with have the same compassion and sensitivity for all living things.
What's happening?
greg@eriemultimedia.com
Check out this great article about me in the Erie Times News Showcase. I am so excited for the community to learn more about my passion and enjoyment for painting and art! I am [...]
greg@eriemultimedia.com
Featuring Janine Utegg's first solo exhibition, For the Love of Farm Animals, a heartwarming collection of oils on canvas of cows, pigs, sheep, goats, and horses. Janine is a bold colorist who works in a [...]
ARTIST STATEMENT
Janine Lay-Utegg is a local award-winning artist in Lake City, PA.  She paints in oils, acrylics & watercolors on multiple supports.  Janine will tackle ANYTHING she puts her mind to, including landscapes, waterscapes, sunsets, abstracts and portraits.  But her favorite of all is painting animals of all kinds! Janine humbly proclaims, "Painting God's creatures  brings me the MOST joy in life".
She received formal training and showed her work in St. Petersburg, FL at Salt Creek  ArtWorks, The Erie Art Museum, and has  mentored under various professionally acclaimed instructors throughout her career.
 Janine does commissioned work from photos and loves new challenges!   She exhibits regularly in juried group shows, and is known as a "bold colorist" who paints love into each piece.